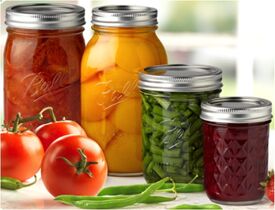 Canning is a very useful thing to know. Want summer fruits and vegetables in the winter? Canning is a time-honored way to go! Or maybe you want to make things that are only possible through canning methods — like jams and jelly. Learn to can well enough and you'll even be able to create gift-worthy treats that'll save you a ton in the long run, particularly if you have a large group of family and friends to buy for. For a complete tutorial on canning, click here.
Ad blocker interference detected!
Wikia is a free-to-use site that makes money from advertising. We have a modified experience for viewers using ad blockers

Wikia is not accessible if you've made further modifications. Remove the custom ad blocker rule(s) and the page will load as expected.